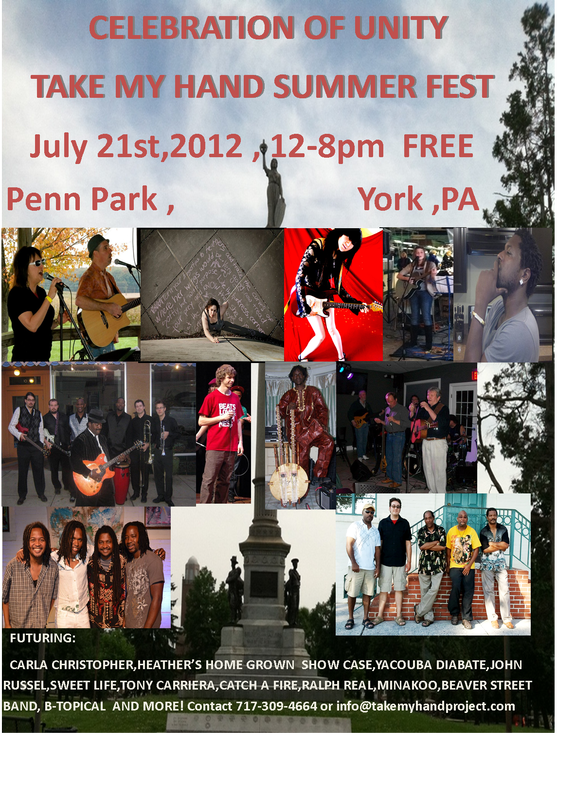 Performance Schedule:


9:00 am - GALACTIC SUNRISE

10:00 am- LMLS

11:00 am- JD SAGE

12:00 pm- JASPER THE TOURIST

1:00 pm- WHISKEY & WATER

2:00 pm- RONN BENWAY AND FRIENDS

3:00 pm- BOOTS AND THE BAGGAGE

4:00 pm- STANLEY FAMILY BAND

5:00 pm- WILD HYMNS

6:00 pm- B-TROPICAL


-TAKE MY HAND SUMMER FEST 2012, PHOTO CLICK HERE


-TAKE MY HAND FESTIVAL ,September 28th,2013


-TAKE MY HAND FESTIVAL,JULY 12th,2014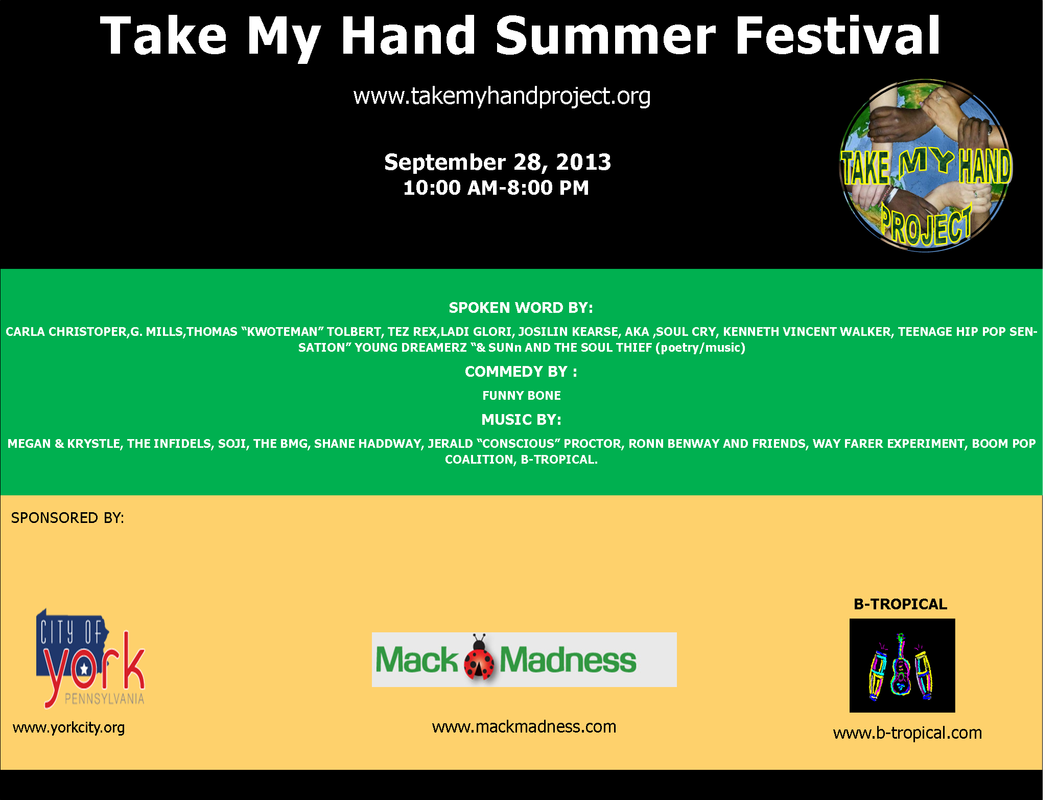 Performance Schedule:
Lg Stage 12-12:40pm Shared set: THE INFIDELS (12.00-12.20)/MEGAN AND KRYSTLE (12.20-12.40)
Sm Stage 12:40pm-1pm JOSLIN 'SOUL CRY' KEARSE
Lg Stage 1-1:40pm SOJI
Sm Stage 1:40-2pm LADI GLORI & TEZ REX
Lg Stage 2-2:40pm THE BMG (with Rhyne McCormick)
Sm Stage 2:40-3pm YOUNG DREAMERZ
Lg Stage 3-3:40pm FUNNYBONE (comedy)
Sm Stage 3:40-4pm JERALD "CONSCIOUS" PROCTOR
Lg Stage 4-4:40pm RONN BENWAY AND FRIENDS
Sm Stage 4:40-5pm KENNETH VINCENT WALKER
Lg Stage 5-5:40pm WAYFARER EXPERIMENT
Sm Stage 5:40-6pm SUNN & THE SOUL THIEF
Lg Stage 6-6:40pm BOOM POP COALITION
Sm Stage 6:40-7pm G. MILLS & KWOTEMAN
Lg Stage 7-8pm B-TROPICAL

So far vendors include PoemSugar Independent Iris G. Press
, Lovie Rineholt Price (artwork), James Thompkins (artwork/jewelry), and Krystle Sights (reiki and customized hair wraps). Stay tuned as the band lists and vendor lists continue to grow over the next week!

* Do you have a York based small business? And independent craftsperson? Are you a community positive group or local non-profit? Leave a message here and we'll get in touch with you about setting up a vending table so you can share information and products with the community.